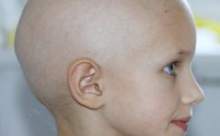 Childhood Cancer Survivors at Risk for Long-Term Emotional Distress
Survivors of childhood cancer are at greater risk for persistent hair loss and disfigurement, and for some individuals that may lead to long-term emotional distress, according to a new study.
By TRACI PEDERSEN Associate News Editor
---
Survivors of childhood cancer are at greater risk for persistent hair loss and disfigurement, and for some individuals that may lead to long-term emotional distress, according to a new study.
Compared to their siblings, cancer survivors have more scarring and disfigurement on their arms, legs and head later in life. And, on average, adults with these traits tend to have more depressionand a lower quality of life.
"I think it showed us these aren't necessarily life-threatening late effects of cancer… but certainly we need to be more aware of the outcomes these patients are dealing with," said Karen Kinahan, coordinator of the STAR Survivorship Program at the Robert H. Lurie Cancer Center of Northwestern University in Chicago.
Kinahan and her team analyzed information on 14,358 childhood cancer survivors and 4,023 of their siblings already participating in a different study.
Survivors of leukemia, lymphoma and kidney cancers who had been diagnosed before they were 21 years old (and had started treatment between 1970 and 1987) answered a questionnaire when they entered the study and another in 2003.
Overall, one-fourth of the survivors had a scar or disfigurement on their head or neck, compared to one in 12 of their siblings. Cancer survivors were also more likely to have scars or disfigurements on their arms, legs, chests and stomachs.
Scars and disfigurements can be caused by surgery or radiation. And in children who are still growing, areas that are radiated tend not to grow as well, according to Dr. Karen Wasilewski-Masker, a pediatric oncologist at Children's Healthcare of Atlanta. This may result in cancer survivors looking out of proportion as they age.
Individuals with scars or disfigurements on their head, neck, arms or legs had a 20 percent higher risk of depression than those without scars, according to the researchers.
Cancer survivors also experienced more hair loss than their siblings—about 14 percent of survivors and six percent of cancer-free siblings reported going bald. And balding was also linked to depression, especially in women.
The researchers found that various aspects of cancer survivors' quality of life were worse and were linked to scarring, disfigurements and hair loss. These included general health, physical ability, pain, mental health and social functioning.
"We need to be aware of the possibility of some psychosocial problems in patients that have some type of disfigurement… but we also need to not assume that just because a person may look different because of a cancer treatment that it's impacting them in a negative way," said Wasilewski-Masker, who is part of Children's Healthcare of Atlanta's program for childhood cancer survivors.
In a separate study, published in the same journal, researchers found that nearly three-fourths of 388 people between 15 and 39 years old were back at work or school full-time within 15 to 35 months of being diagnosed with cancer. More than half, however, experienced trouble when they returned, including forgetting things and struggling to keep up with the work.
"Really this study is a starting point to understand the groups in this population who are least likely to return to work. It really sets the stage for future studies," said Helen Parsons, the study's lead author from the University of Texas Health Science Center at San Antonio.
Wasilewski-Masker added that there are differences between cancer patients when making the determination of whether to stop working or going to school. For example, high school and college students are typically still financially supported by their parents, and patients' abilities may depend on the intensity of their treatment.
The report is published in the Journal of Clinical Oncology.
Source: Robert H. Lurie Cancer Center of Northwestern University
Bu haber toplam 4537 defa okunmuştur